MOMO Squeeze and Short Ratio Deliver "One of a Kind" Short Squeeze Scan
Today I'm happy to announce we've added Short Ratio to MOMO Pro+. Together with our existing indicators you will now have one of a kind insight into stocks bearing the weight of potential short squeeze due to  traders perceived increased risk and decreased return from holding short positions.
While short ratio is only one indicator that plays part in a short squeeze it is a critical element traders use when trying to time closing their shorts to maximize profits.  
In practice, short traders view the short ratio as a "early warning" indicator because large short positions may get anxious about having the ability to close their position  with the liquidity needed and to do so profitably.
Long traders and "short squeeze enthusiasts" use short ratio as a rank value which is likely to get pressure due to visibility and therefore exploited by groups like WallStreetBets or the like.  
When coupled with MOMO's Float and Squeeze filters, traders can uniquely screen  opportunities having a short squeeze bias by simultaneously using both technical chart/TA validation (MOMO Squeeze) as well as underlying statistical details (float, short ratio, etc).  To the best of our knowledge, nobody else can do this.
Take a look at these results below.  (As of Wednesday, October 25th)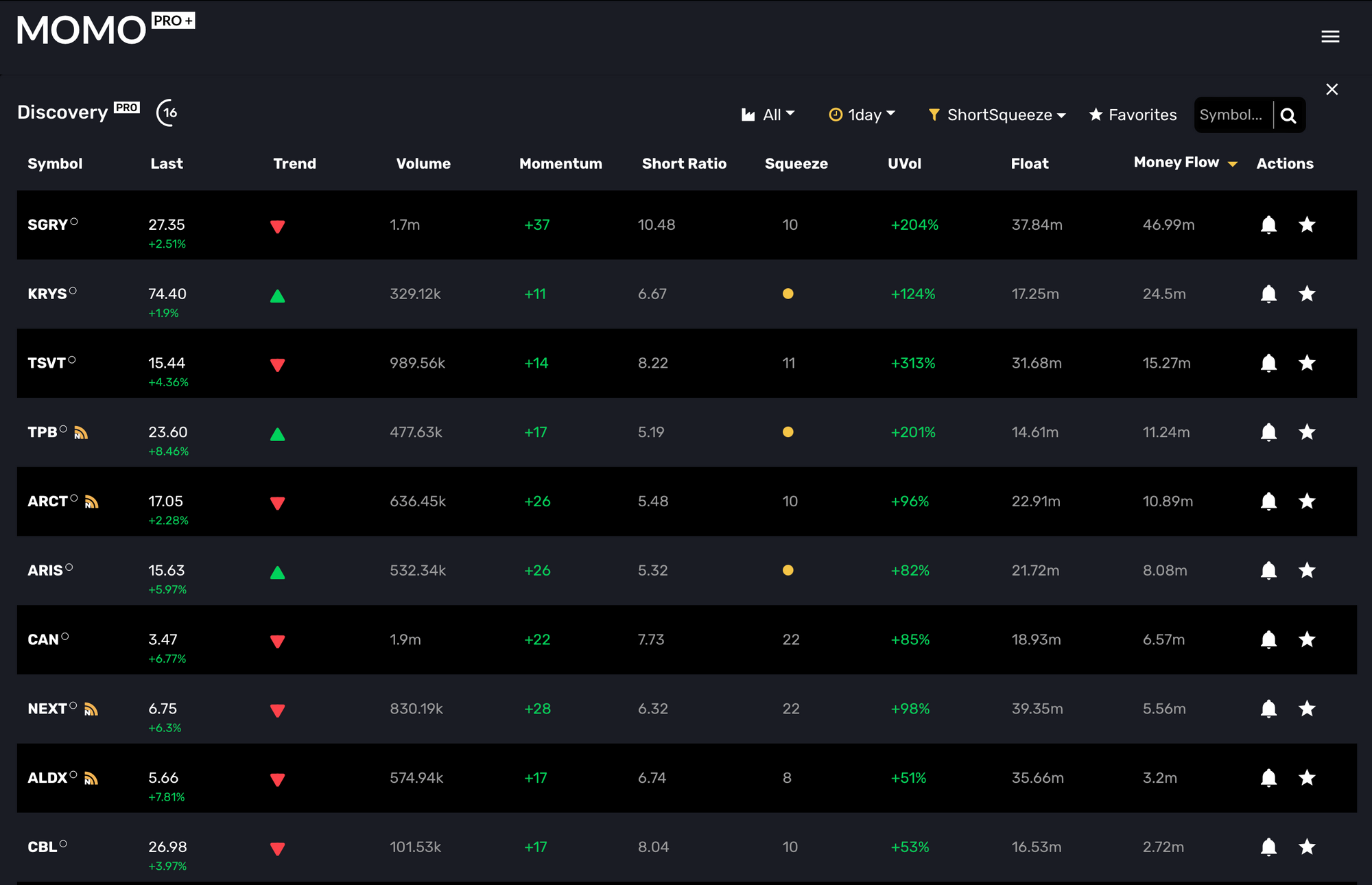 How to use Short Ratio to build a Short Squeeze Filter:  
Short ratio can be used during day to day as for informative purposes while using Discovery or you can filter as shown below.  To create a Short Squeeze filter as shown above I used the following settings:
Short Squeeze Settings:
Float: under 40m
Short ratio. : ~5 or higher
Squeeze: PRE: 7 and NOW
UVol: 25%

Optional :
Momentum:  +5    
-OR -
Price%: 1%

You can obviously tweak to your needs, but this has been working very well for the past week.  Adding positive momentum or Price% will thin down potential false screens.  You may use UVol alone or as an option to capture opportunities which are gaining visibility even before positive gains.  
NOTE: You may also build a Conditional notification with Short Ratio and get the results returned as a push notification.  Read more on Conditional Alerts.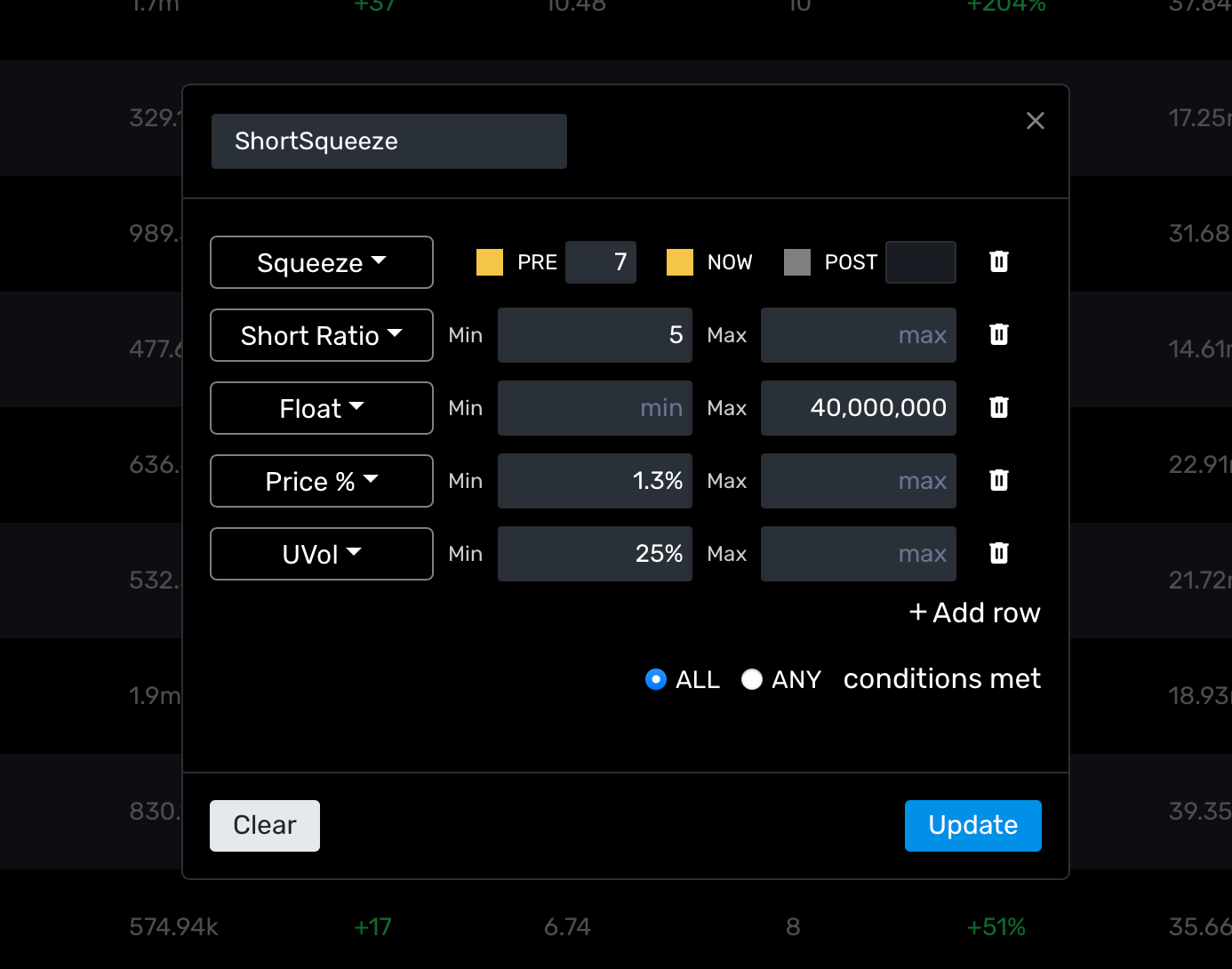 About our Short Ratio
Our short ratio values are updated every evening and unlike short volume and related indicators it's timely and (in our opinion) has less ambiguity. Short ratio is the proportion of shares short to the current average volume and gives indication of number of trading days required to clear the number of shares short.
Short Interest versus Short Ratio
The short interest ratio is the ratio of short interest to the average daily trading volume. Short interest is a part of the short interest ratio but is not the same as the ratio. Short interest is the number of shares that are short sold divided by the total number of outstanding shares.
A key difference with the  short interest ratio is it takes liquidity into account since it considers the average daily trading volume.
The short interest ratio is a mathematical indicator of the average number of days it takes for short sellers to repurchase borrowed securities in the open market.
When the short interest ratio is high, the number of shares that will be repurchased in the open market after short selling is high, and similarly, if the short interest ratio is low it means that the number of shares that will be repurchased in the open market after short selling is low - or less likely for a Short Squeeze.
MOMO Squeeze Refresher
MOMO Squeeze is our proprietary implementation of the chart-based TTM Squeeze.  This uniquely enables MOMO traders to scan the stock universe for positions in either extended consolidation or currently breaking out of consolidation.  Where traditionally you would need to view each's stocks chart individually and evaluate the TTM Squeeze state MOMO Squeeze does all the work for you.
Typically MOMO Squeeze will be best used with the daily timeframes, but exploring timeframes on either side should also work. For more background on how to use MOMO Squeeze, please visit this related post.

Also note, MOMO Squeeze is not inherently a bullish or bearish indicator; but coupled with positive gain, short ratio, uvol, etc. can be used to sniff out Short Squeezes and top short Squeeze candidates.
We hope you find this latest addition useful. If you have additional suggestions, please let us know.  Mometic has always been about uncovering ways to find outsized movers, it's even built into our name - a portmanteau of Momentum and Analytics.
MOMO Squeeze and Short Ratio are only available in MOMO Pro+.  Don't have MOMO Pro+ yet?  Start here!  

Team @ Mometic