At the beginning of the year we released our first iteration of MOMO Squeeze -- as a way to scan the entire market based on TTM Squeeze.  The capability is not only unique, but one of, if not the most powerful way to fortell strong stock breakouts.
In building we had to provide a tabular way to indicate the 3 states which a stock can be in at any given time.  Graphically, when TTM Squeeze is overlayed on a chart there the stock can be "in a squeeze pattern", "breaking out of the squeeze pattern" or "no longer in a squeeze pattern".  We translated this into "PRE", "NOW", and "POST" so MOMO users can sort and scan stocks based on this state.
Initially, we only had these 3 coarse options as filters, but we soon realized that users would want to fine-tune these across multiple ranges and filter some of the outlier data.  So now we have the ability to do so!
Now you can configure MOMO Squeeze to filter based on the number of timeframes in PRE and POST.  As shown below, you can filter those stocks in latter stages of PRE and also those currently breaking out (NOW).  NOW doesn't have any input as it is naturally limited to the current timeframe.

Of course you can combine Squeeze with any of our other indicators, but this is just a basic example.
NOTE: You cannot select all 3 states as this defeats the purpose of filtering based on Squeeze. Also note, POST is represented as a negative value and MOMO will automatically insert a "-" sign if you do not do so.
Conditional Alerts
An important reason for this update is to make MOMO Squeeze work as a condition within our Conditional Alerts.  Now that we have ability to explicitly define threshold values for PRE and POST, you can get alerted as stocks not only meet the criteria, but "enter" into the set Squeeze range.
For more detail, please see the introduction to MOMO Squeeze.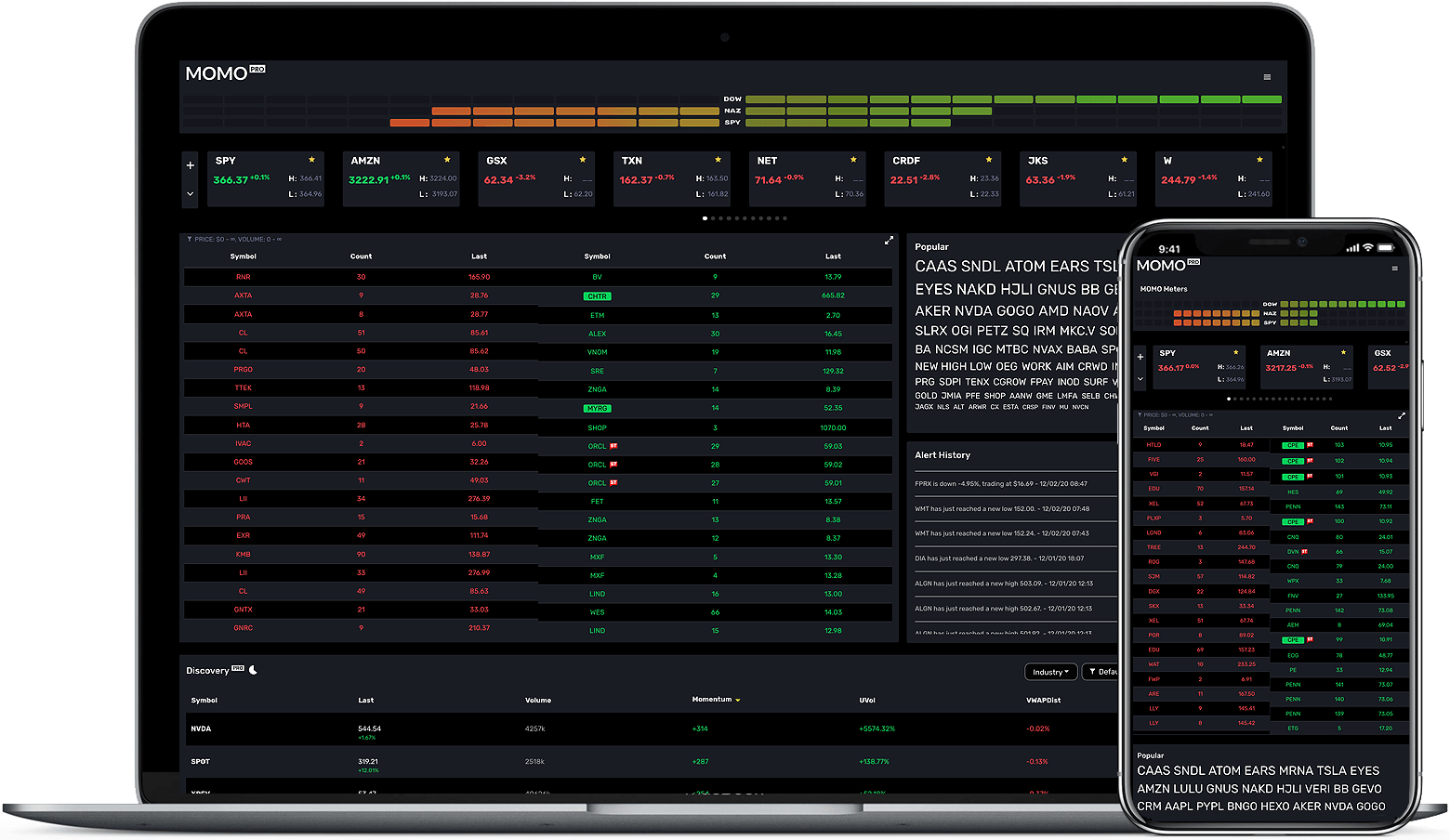 So how would you use this?  First off, the Conditional Alert capability is only part of MOMO Pro+. So upgrade as needed.
As an example.  Let's say you want to get alerted to all stocks who have been in a MOMO Squeeze for past 7 bars on daily.  As such, we set the condition to PRE with a value of 7 (also the default).  Which evaluates to "alert for any stock with a at least 7 bars of PRE Squeeze".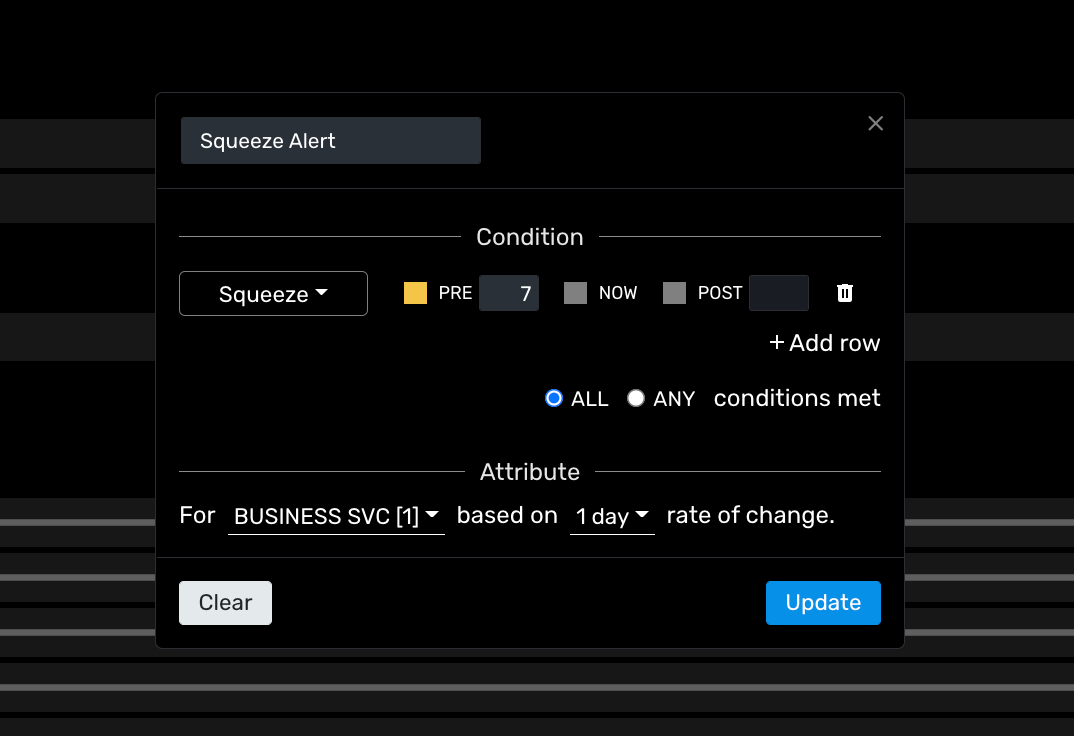 One of the results alerted is DRTT.  

When looking up DRTT with a TTM Squeeze indicator, you can see DRTT is showing it is in 9 bars of Squeeze a pattern.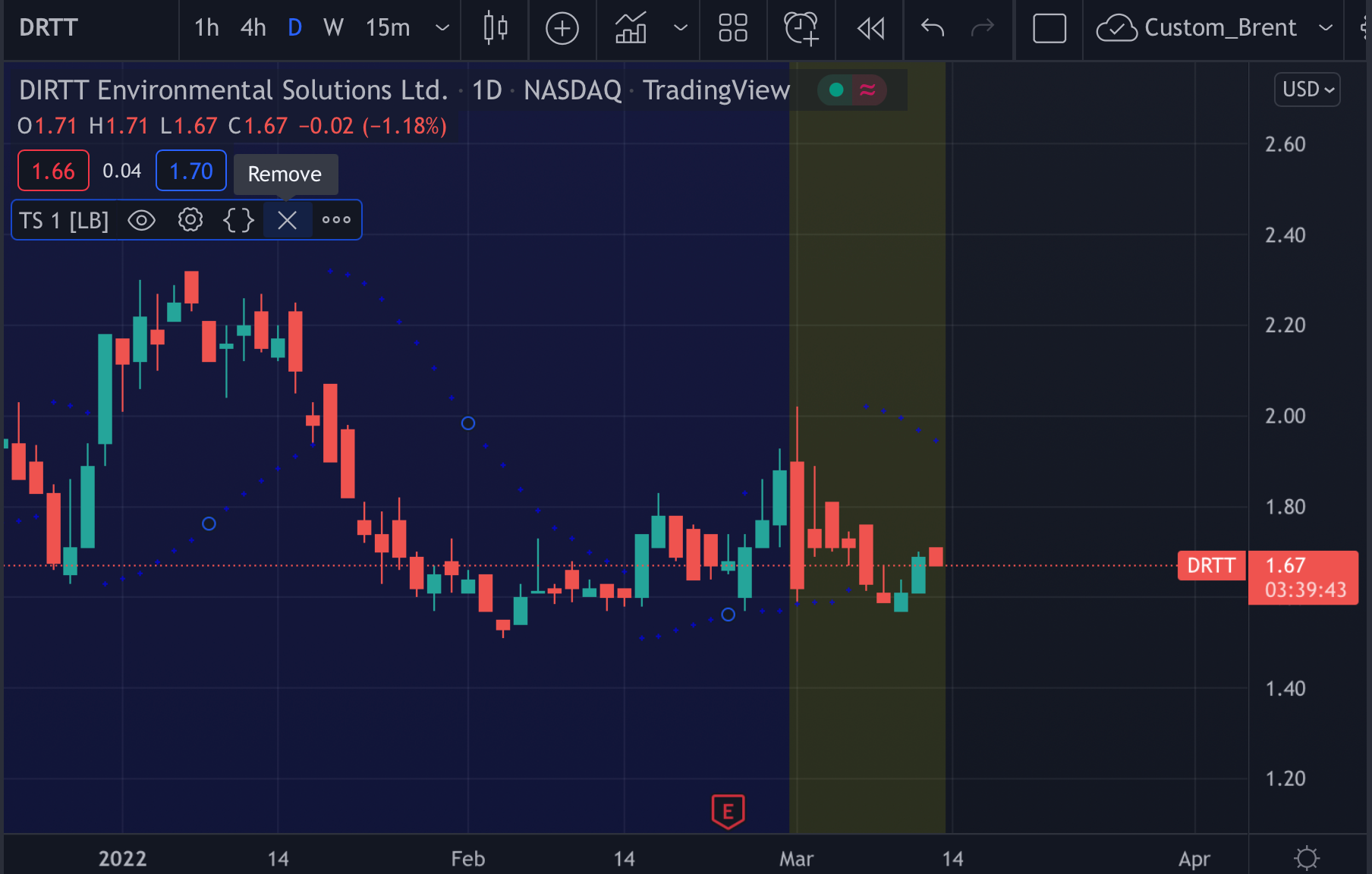 What does this mean?  Well, it means DRTT is in rather long period of consolidation and that it could be primed to make a move - and if you are an options trader, during periods of low volatility is better time to place trade vs. during the actual breakout.  
If trying to get a bit more visibility to stocks are getting renewed interest, add additional critieria to your conditional alert like Unusual Volume.  
Don't have MOMO Pro yet?  Get your free trial now at Mometic.com
Happy Trading!
Team @ Mometic