MOMO Money Flow Available @ 11/16 11:59 EST
Tonight we are adding Money Flow to your toolbox!  MOMO was originally built to find stocks entering price discovery. We thought this was one of the purest forms of price action to aid trading. We've refined this view recently and have been more aggressive in adding exciting functionality that provides rich insight into the "posture" of the market as well as the "velocity".

Money Flow gives a true picture of both market and individual stock's momentum and lets you see relative funds being traded to track velocity and interest.  Our Money Flow lets you not only see flow relative to other stocks, but across a single stock's prior timeframes. As with all our functionality, you can use Money Flow as part of our filtered criteria to allow you to add Money Flow total value or Money Flow % change as part of your advanced filters.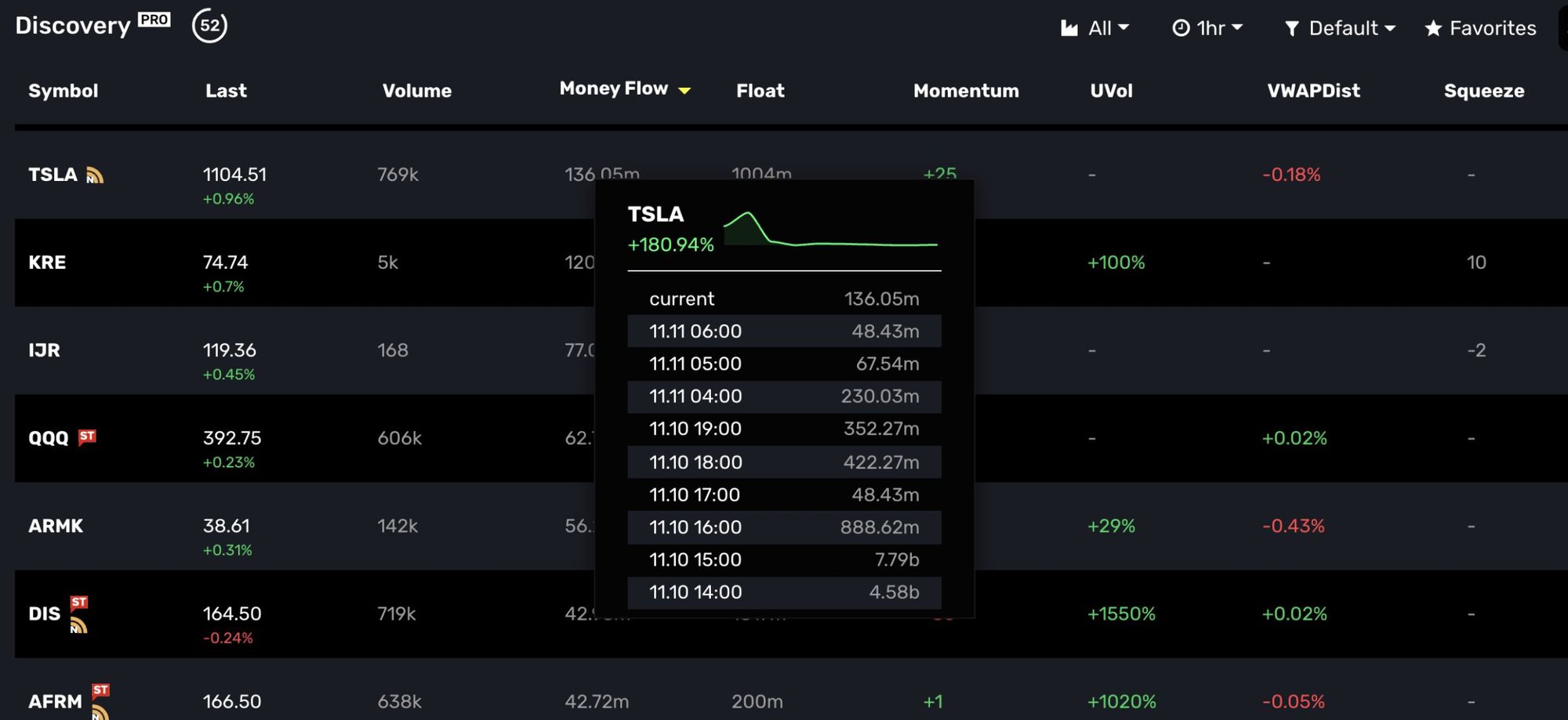 We have high hopes for Money Flow and are particularly excited because this addition completes our dataset to enable us to do some very powerful things in the future.
More Detail

Money Flow is dynamically calculated per timeframe and updated every minute.  The Money Flow calculation uses current timeframe VWAP-based price multiplied by volume in order to calculate Total Money Flow.  This is also known as "Dollar Flow" or "Dollars Traded".  More esoteric money flow calculations try and distinguish positive and negative trades or candles to create positive and negative money flows.  This is not our intent and we are calculating "total money flow".  

Money Flow shows "where the action is".  A stock can increase 20% on low float with little visibility, but if the dollars being exchanged is nominal, few are watching.  This is seen by many as more valuable than volume where volume is only showing one part of the equation.

How to Use

To use, simply click the column heading to sort and see those stocks with most flow in current period relative to all other stocks.  If you click on the money flow value for a particular symbol, a pop-up showing the Money flow history of current period vs. prior history (see above screenshot).  The pop-up also shows the percent change of current period vs. most recent prior period.

Also as shown below you may adjust the column position of Money Flow (and any other column) as well as hide them.  To adjust, click the grabber icon and drag to desired order.  We also have a "smart hide" function so if you are on your phone MOMO will hide the bottom-most columns first to best show the top columns.

Other Notables

MOMO Pro will now be PWA enabled! For those of you out there in software; we built MOMO Pro using the latest responsive web tech because the apps are brutal to maintain and keeping up to date with the App Store review process and such is beyond our interests.  What this means is that MOMO Pro is effectively side-loaded as an app to your mobile device.  There are some small limitations (Apple doesn't like developers making things not using their App Store) but overall a PWA is an enhanced mobile experience with better scrolling and improved use of screen real-estate.  It also supports things like badge notifications as you can see below.