Introducing All New MOMO Trend!
At the beginning of the year we put the finishing touches on our architecture to enable us to quickly build and innovate... Already we've introduced powerful capabilities like MOMO Squeeze, Moneyflow, Webhooks and today we are thrilled to announce MOMO Trend!
MOMO Trend is our latest capability to help traders get a sweeping scan of the market's trend and give a quick sense of the up/down direction of any stock, as well as also the confidence to let trades run and fully capitalize on the momentum.
MOMO Trend, like MOMO Squeeze, utilizes the same base calculations found in complex charting algorithms.  Where previously you were limited to  having to load a chart and supporting algorithm for each symbol to identify its technical trend, with MOMO Trend you can see the entire market's trend posture at a glance, dramatically simplifying your trading workflow.
With MOMO Trend you can do powerful things such as  –
Use to build with Custom Discovery Filters (MOMO Pro+) - As filtered criteria you can now search for everything that is trending whether up (buy) or down (sell).  
Include in Conditional Alerts (MOMO Pro+) -  We have developed innovative logic where you can build alerts which not only act as conditions (changing from state to another e.g. transitioning from a "buy" to a "sell") but als0 act as an attribute (e.g. if Trend = buy and % change = 2%).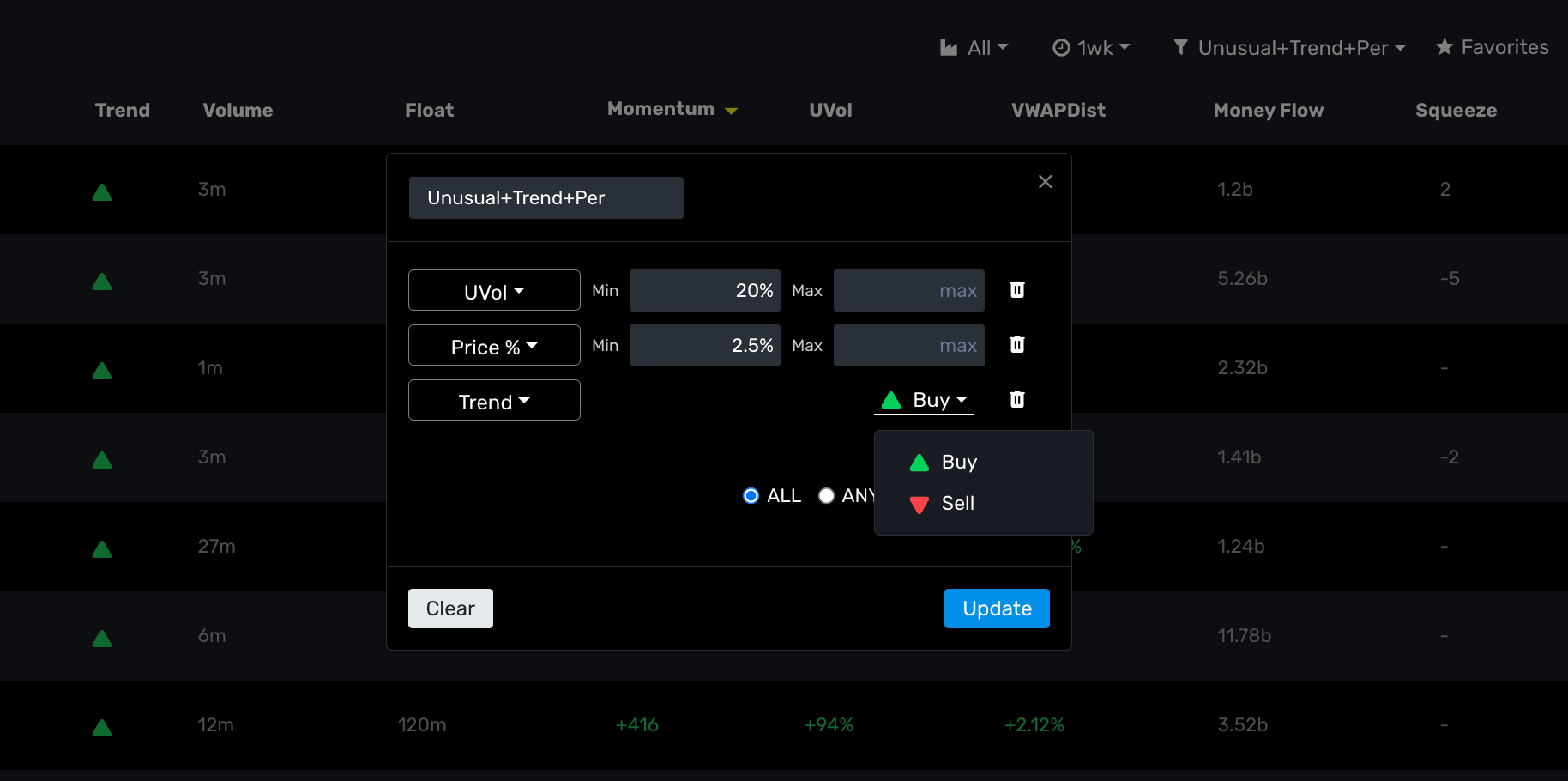 If you are familiar with Supertrend, MOMO Trend tracks closely with this behavior.   When subscribed to MOMO Pro+ you will have the MOMO Trend column enabled as shown below.  As this illustrates, on a 1wk basis there is a variety of stocks in overall uptrends and downtrends despite weekly gains.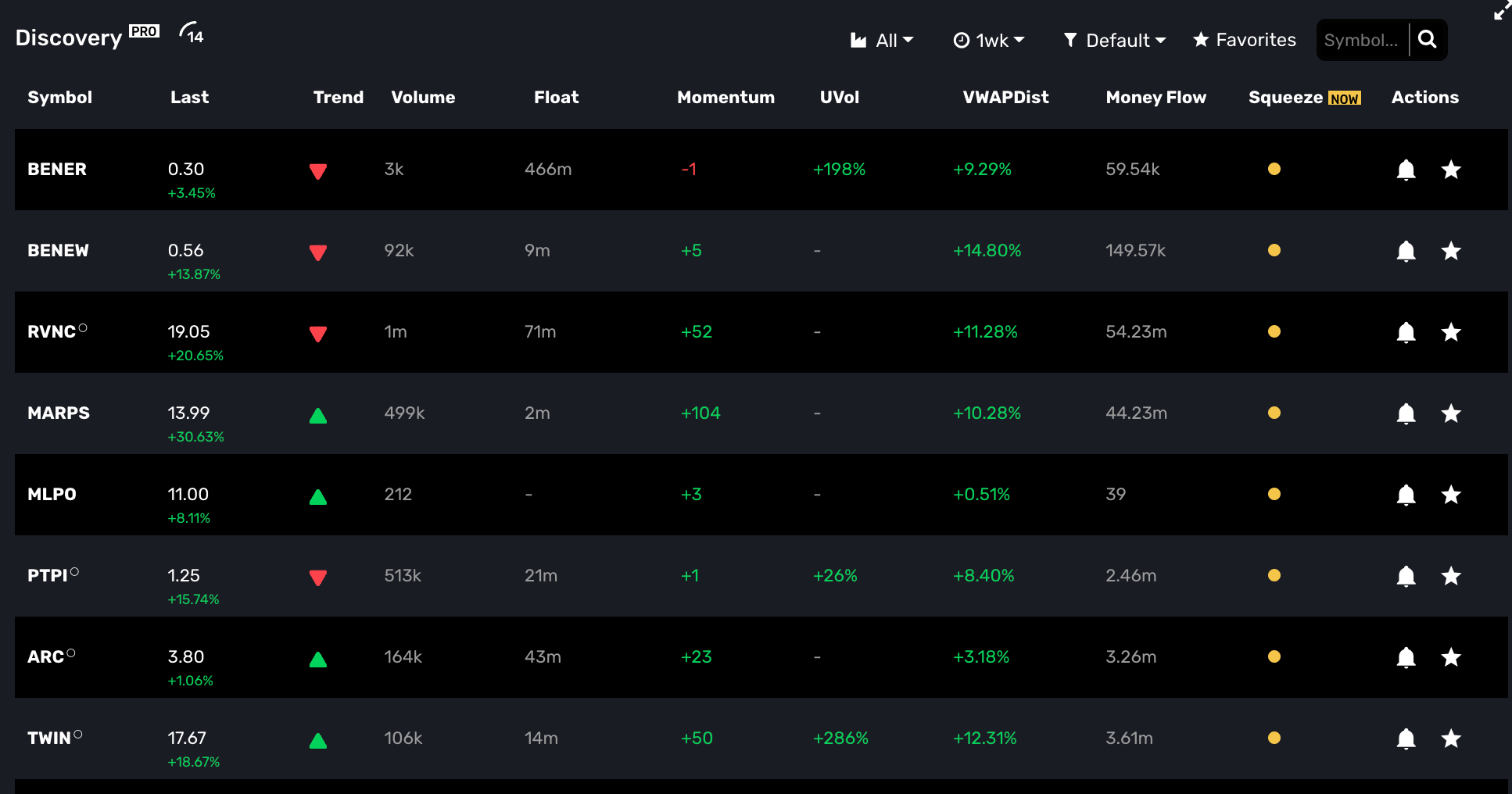 Upon Examaning symbol TWIN, you can see on the Weekly timeframe it recently transitioned from a downtrend (Sell) to an uptrend (Buy).  You can see in above Discovery screenshot the uptrend corresponding to this.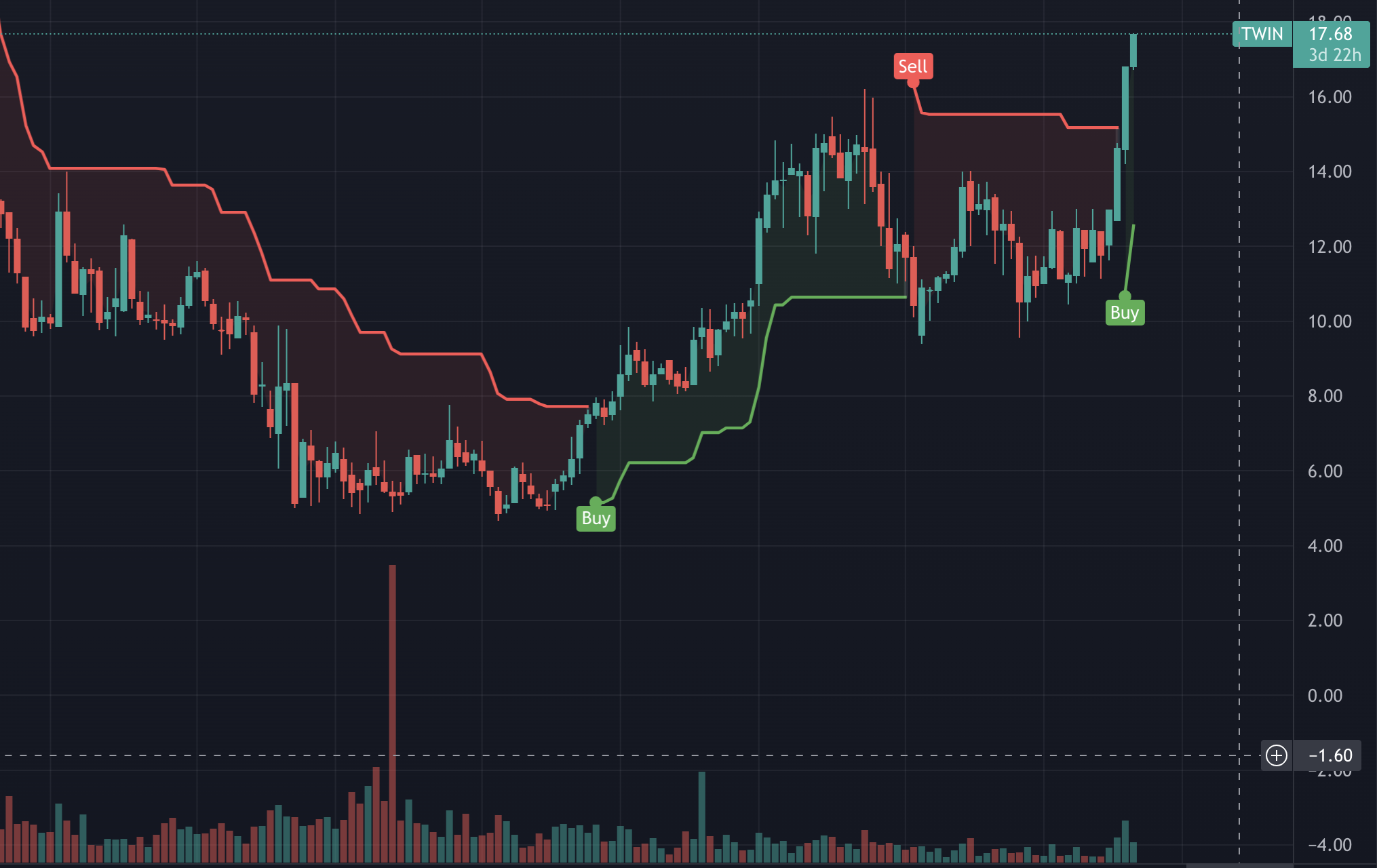 We think MOMO Trend is not only great for swing trades but also day trades.  At a glance, you will know the direction and can enforce a higher degree of trade discipline.
Additionally, if you want to know the price where the trend change will occur; you can click on the associated Trend (green up/red down)  icon to show the price which the trend changes (image below).  And while a few days have passed since, capturing this screenshot, you can see how this could play out for setting a stop or even entering a short position.
This is your point of validation and you can hold this trade until the next trend change.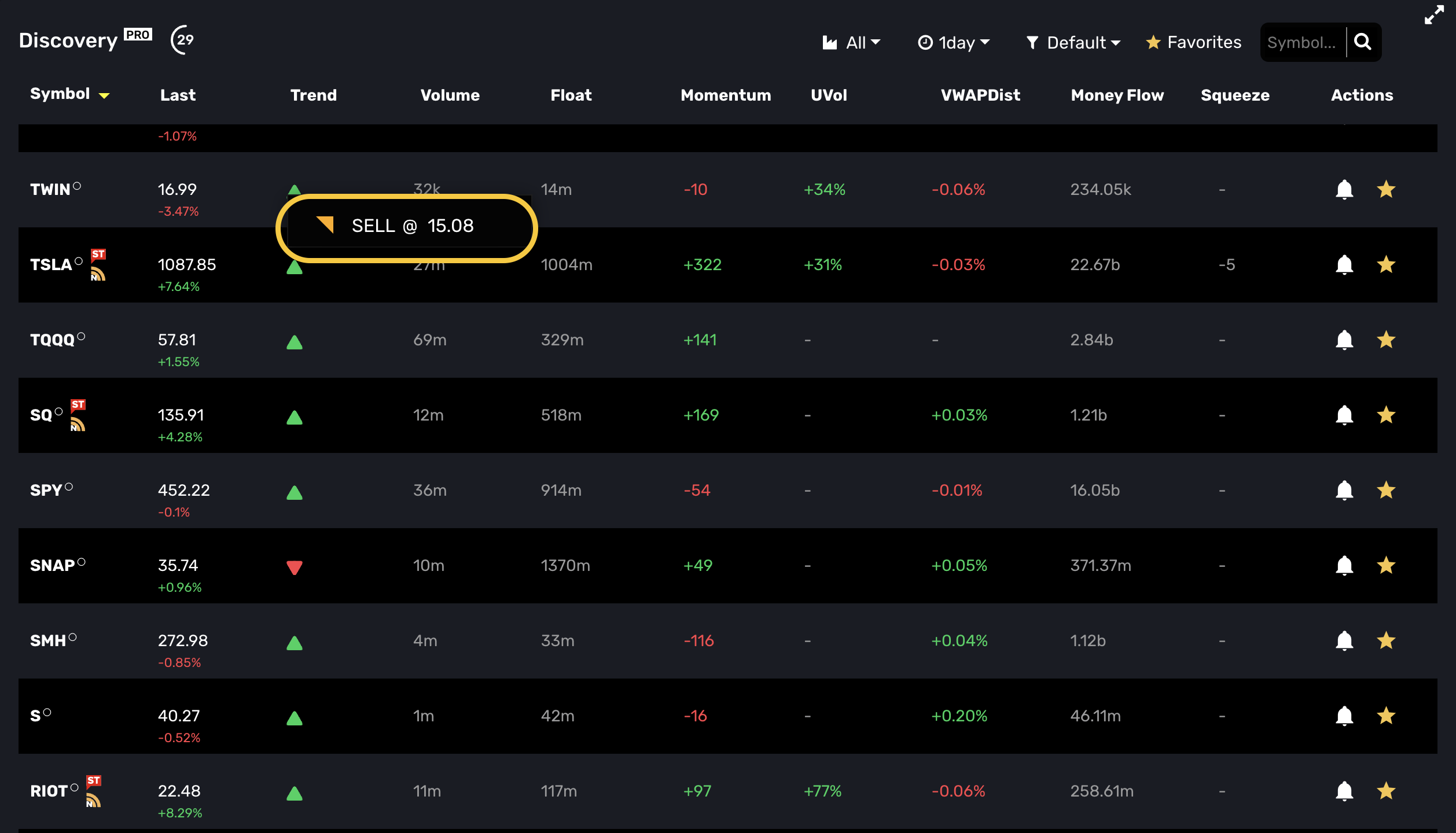 As a Momentum trader, MOMO Trend is your support system on your momentum trade.  It provides unbiased logic to help you establish stops and trend changes and is much more robust than moving averages and other basic approaches since it accounts for volatility to help keep you from getting stopped out while positions are trending.  
If you have come across Supertrend in the past but wanted do more with it like we have described above, you will definitely want to give MOMO Trend a try.
MOMO Trend is available only in MOMO Pro+ plan.  Existing MOMO subscribers may upgrade under MOMO Account page.  If new to MOMO, you can learn more about our plans here.
Happy Trading!
Team @ Mometic