How I use MOMO Pro for Swing Trading
Okay first let me preface this by being honest – I'm not a "pure" day trader. When I do day trade,  I'm more of an opportunistic scalper and  in and out of trades incredibly quickly. Swing trading is definitely more my style, and while I am good at finding a decent exits, when it came to finding early, well-timed entries, there was definite room for improvement!

Enter MOMO Pro...

Now, as a swing trader I like to look for stocks that are strong and in an uptrend – I take a lot of inspiration from Nicholas Darvas and William O'Neill, and my Twitter follow list includes Leif Soreide, Oliver Kell and Jonah Lupton to name a few. One thing all of these traders have in common is they can get optimal entries on a stock showing good relative strength (i.e. it's outperforming its index).
I wanted to be able to do the same, and so I started adding the stocks I was watching into MOMO Pro to scan for a good entries.

So, I added my top watches to MOMO Favorites (aka Watchlist)  and use Discovery  to keep an eye on a select few.  For example,  today I wanted to find  a good entry on AMD. It's beaten down but a solid company with, what I think, a solid long term potential. That being said, I don't want to get in too high and I want to maximise my R/R.

Looking at AMD today, I saw a good amount of momentum on the 15 min timeframe but the trend was bearish overall.

I checked the 5 min chart with my broker and could see that AMD had just had a bounce off the 200ema and cleared VWAP, bouncing off of it in the next candle.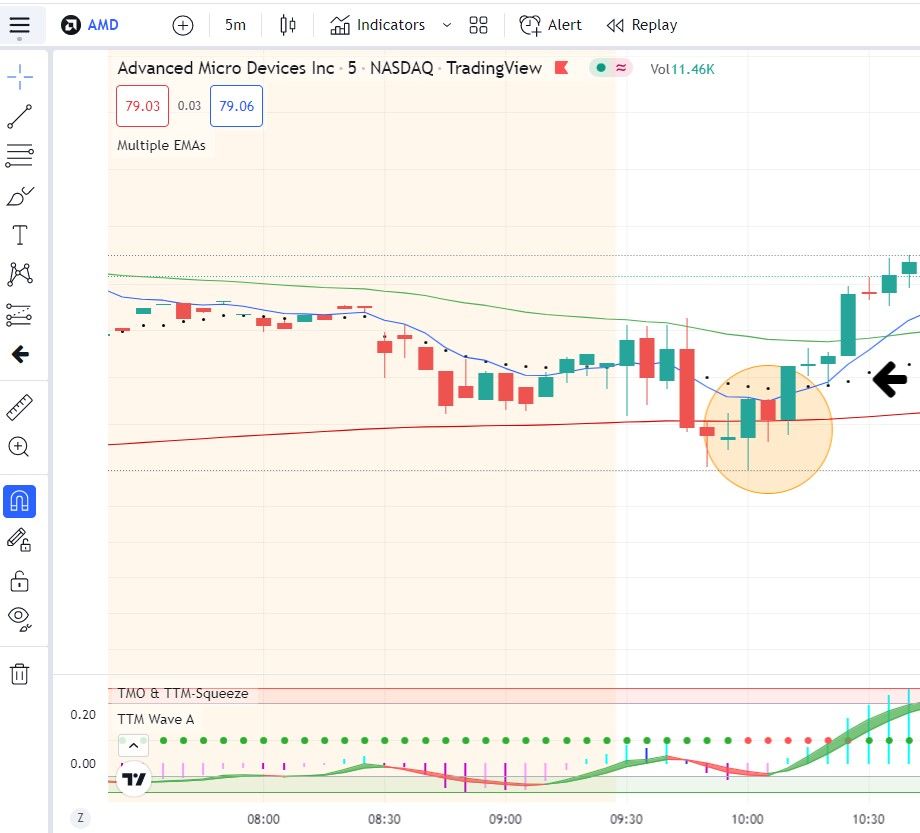 For me there was enough to suggest this was a good entry point, so I bought shares at an average of $78.46. Within minutes the price had increased to $79.10, meaning I'd made a dollar a share for under 10 minutes worth of work.

Previously, I'd be scanning hundreds of charts and missing lots of moves, but adding my top watches to MOMO Pro and letting it do the scanning for me is a game changer.
Ultimately, if you have 15 strong stocks on your watchlist, you can't watch all of them – we're only human after all – but you can add them to MOMO Pro and let it do the watching for you.
It's worth noting that Discovery Pro is only available on Pro and Pro+ plans, so if you don't have MOMO Pro just yet, it's definitely worth signing up today!

This is just one way to use MOMO – I'll be writing more content for other ways you can use if  for different trading styles!